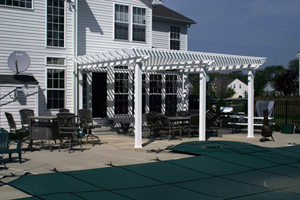 below $1750
10' x 14' arbor kit with 4 posts - $999
10' x 26' arbor kit with 6 posts - $1743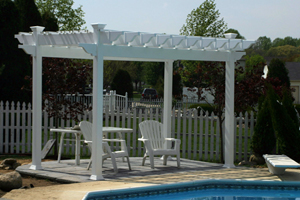 $585-$997
10' arbor kit with 4 posts - $585
10' x 18' arbor kit with 6 posts - $997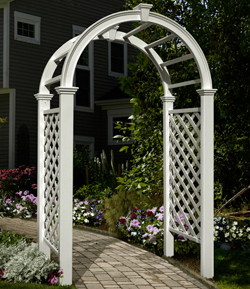 $589.00
Livingston Arbor (VA68103)
Inside Dimensions 42"W x 20"D x 87" H w/ 2" x 3.5" Sq. Posts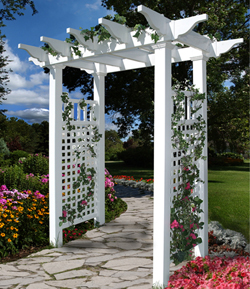 $1199.00
Fairfield Arbor (VA84226)
Inside Dimensions 50"W x 24"D x 80.5"H w/ 4" Sq. Pos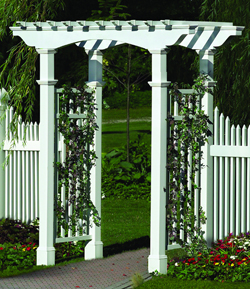 $999.00
Newport Arbor (VA84027)
Inside Dimensions 50"W x 23.875"D x 87.5" H w/ 4" Sq. Post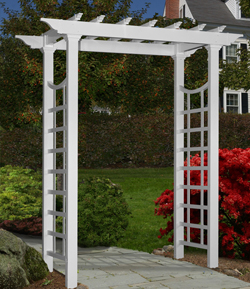 $539.00
Westhaven Arbor (VA68233)
Inside Dimensions 50"W x 20"D x 81.75"H w/ 2" x 3.5" Posts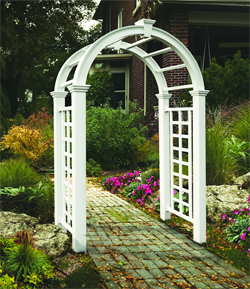 $1029.00
Nantucket Deluxe Arbor (VA84240)
Inside dimensions 52" W x 22"D x 95"H w/ 4" Sq. Post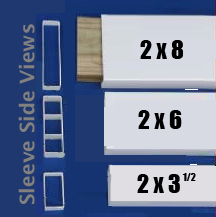 $3 - $6 Each
2" x 3 1/2" Sleeve - $3 per foot
2" x 6" Sleeve - $4.50 per foot
2" x 8" Sleeve - $6 per foot


$9-$12 Each
2" x 3 1/2" Arbor End- $12
2" x 6" Arbor End - $14.40
2" x 8" Arbor End- $17.25


$12.60 Each
2" x 6" Arbor Hangar
$7.00
Rose Scroll
Small - $11.00
Medium - $12.00
Large - $15.00


$4.00 Each
2" x 3 1/2" Sleeve Cap- $4
2" x 6" Sleeve Cap - $4
2" x 8" Sleeve Cap- $4

We can also build you a custom Arbor. Just give us a call to speak with one of our experienced representatives.
Why Would I Install a Vinyl Arbor or Pergola Kit?
You might install a vinyl pergola for several reasons, including:
To provide a low-maintenance alternative to traditional wood pergolas.
To enhance the aesthetic appeal of your outdoor living space.
To resist fading, staining, and warping compared to traditional wood pergolas.
To reduce the risk of splinters, cracks, and rot.
To provide a durable and long-lasting solution for your outdoor structure needs.
To offer a range of color options to match your home and landscape.
To provide a moisture-resistant solution that is suitable for use in high-humidity environments.
To provide an easy-to-install solution, as vinyl pergolas typically come in pre-made components that can be assembled on-site.
To offer a low-cost alternative to custom-made wood pergolas.
To provide a modern and sleek look to your outdoor living space.