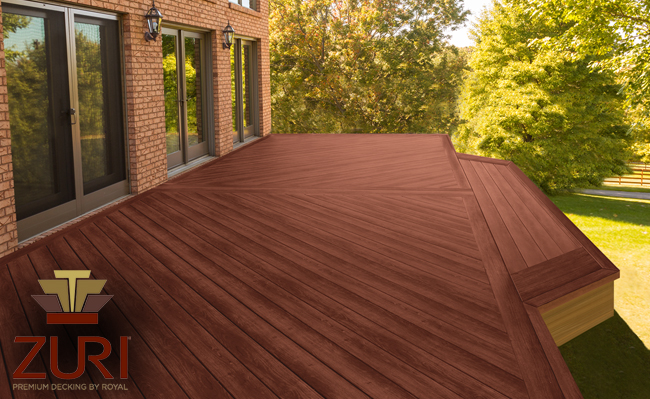 Zuri is a special order product.

Zuri® Premium Decking by Royal® does more than invite inspection. It necessitates it. Color and texture with minimal grain pattern repetition conspire to capture the unmistakable look of exotic timber. A hidden fastener system completes the elegant picture.
Nothing can compare with the realization that you can have all of this beauty without giving a thought to all the maintenance, time investment and inconvenience that come with exotic hardwood.
25-year Color Fastness Warranty: Color shifting will not exceed five units on the Hunter color scale.

Stain Resistant
Virtually Maintenance Free
Vinyl Transfers Heat Better than Composites so it Stays Cooler!
Slip Resistant
No Splinters, Nails, or Screws
No Rotting or Insects
Easy to Clean
Topcoat Provides Exceptional Resistance to UV Light and Color Fade.