Posts, Caps, and Post Skirts Sold Seperately
Please Note: Tan & Khaki is 30% higher then the listed prices below
Deck Teck Twist Rail Kit includes:

Twist Picket Deck TeckRail
3.5″ x 3.5″ T-Rail Aluminum Top Rail
3.5″ x 2″ Aluminum Reinforcements in Bottom Rail
(2) T-Rail Bracket
(2) 2″ x 3-1/2″ Rail Bracket
(20) #10 x 3/4″ Phillips Pan Head Screws
(24) PVC Screw Hole Plugs
(4) Self-drilling Phillips Pan Head Screws (self-drilling in order to drill into the aluminum stiffener)
(4) PVC Screw Covers
Spindles Included
(1) Instruction Sheet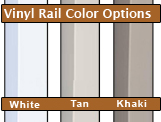 | Level Rail | 36" High |
| --- | --- |
| 4' Rail Kit | $103 |
| 6' Rail Kit | $132 |
| 8' Rail Kit | $176 |
| 10' Rail Kit (Conrad) | $229 |
| Step Rail 28* - 42* degree angle | 36" High |
| --- | --- |
| 4' Step Rail Kit | $113 |
| 6' Step Rail Kit | $142 |
| 8' Step Rail Kit | $186 |
| 10' Step Rail Kit (Conrad) | $239 |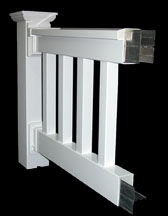 2– ALUMINUM CHANNELS FOR BOTH THE TOP AND BOTTOM RAILS
Great Railing , Inc. is a company that produces vinyl railingfor residential and commercial applications.
Great Railings will last you a Lifetime and our Warranty Guarantees it!
Why Should You Install Twist Style Railing?
There are several reasons why you may consider installing Great Railing twist style spindle railing:
Aesthetic appeal: The twist style spindle design adds a unique and stylish touch to your railing. This design adds character to your deck or stairs and can complement any style of home.

Durability: Great Railing twist style spindle railing is made from high-quality, weather-resistant materials, making it durable and long-lasting.

Low maintenance: The railing is easy to clean and does not require painting, staining, or sealing, saving you time and money in the long run.

Strength and stability: The spindles provide extra stability to the railing, making it strong and secure.

Affordable: Compared to other materials, such as wood or metal, vinyl railing is a more affordable option, making it a budget-friendly choice.

Environmental sustainability: Vinyl is a recyclable material and the production of vinyl products generates less greenhouse gas emissions than many other building materials.

Easy to install: Great Railing twist style spindle railing is designed for ease of installation, making the process quick and simple, which can help you save time and money.

Warranty: Great Railing offers a warranty on their twist style spindle railing products, giving you peace of mind knowing that you are covered in the event of any defects or issues.